Dear Apple, app review process is not for killing startups, right?
Plain Exchange is a platform which:
helps budget travellers, especially students, to trade foreign currency conveniently without the usual high commission fees.
post offers to trade-in their leftover currency from a trip
search offers submitted by other users for other currencies that they need.
chat through our in-app messaging, once users find a suitable match,
meet up to exchange their money, much like how Uber matches users with drivers.
We are building Plain Exchange, because the traditional foreign currency exchange businesses, like banks and brick-and-mortar currency stores, offer unclear and expensive rates and inconvenient services.
We believe that foreign currency exchange services can be improved for individuals.
Peer-to-peer model is our approach to make foreign currency exchange more transparent, inexpensive, and convenient. Plain Exchange v1 on mobile is our first attempt to solve this problem.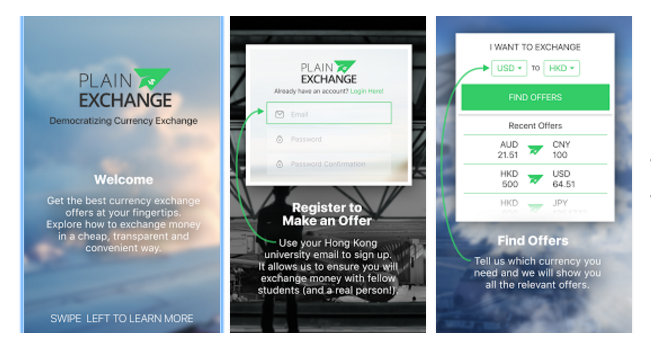 We were aiming for the last week of January to official launch on both Android and iOS. The location our service operates in is Hong Kong, the financial hub of Asia.
Nevertheless, Apple App Store Review rejected us, according to the App Store guideline 22.1.
22.1 — Apps must comply with all legal requirements in any location where they are made available to users. It is the developer's obligation to understand and conform to all local laws.
Your app contains content — or facilitates, enables, and encourages an activity — that is not legal in all of the locations where the app is available. Specifically, your app facilitates meeting in person to exchange money and foreign currency.
- App Store Review
Okay, we have been aware of the legal uncertainties that our model may pose. For this reason, we submitted the first version in Mid December and have been communicating with the Hong Kong government entities like the Custom & Excise Department, which regulates this space, and receive consultation from local lawyers, since last year.
The conclusion of these communications has been that Plain Exchange is legal, if we do not charge any fee to the users for the connection. We have replied back to the App Review Team to make this clear, providing them explanations and relevant documents.
Thank you for your reply. Specifically, we found that your app includes features that facilitate users for meeting in person to exchange currency, which is not appropriate for the App Store.
While we understand you do not take any profit from this and have confirmed with HK government officials with the service, we still find that this feature is not appropriate for the App Store.
— App Store Review
The basis of their rejection was guideline 22.1 (quoted above) again. But the guideline is about whether we comply to the local legal requirements or not.
If Apple admitted that we are legal in Hong Kong, then what is the basis of regulating our service as not appropriate for the App Store?
These are the story behind our incomplete launch. We are constantly communicating with the Apple App Store Review Team to solve this issue.
We sent cold Linkedin InMails to the App Store Review team personnels with the subject line of "Apple App review process is not for killing startups, right?" Eventually, it caught someone's attention and scheduled a phone call with their team in a few days.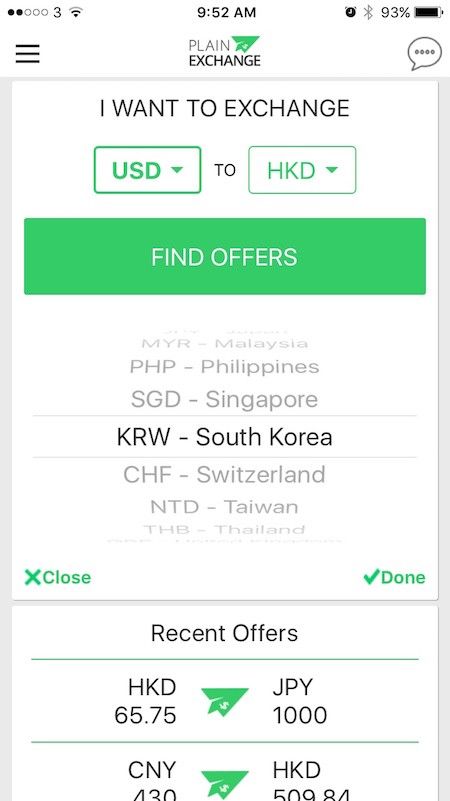 We hope our iOS app can come out as soon as possible.
Just some fun facts about Plain Exchange — written by our team Johannes Jaeger.
1. Plain Exchange is legal in Hong Kong
According to our readings and legal advice, which we have received: referring to the Money Service Operators — Licensing Guide Anti‐Money Laundering and Counter‐Terrorist Financing (Financial Institutions) Ordinance, Chapter 615,
Plain Exchange does not qualify as a money changing business because we are merely a free platform to help people to find others with offsetting currency needs. Additionally, at no point of time do we actually touch the currency or charge the user, the only thing we provide is information.
To further comply with anti money laundry regulations: according to Prevention of Money Laundering and Terrorist Financing Guideline issued by the Securities and Futures Commission for Associated Entities s.3(1), Sch. 2 4.1.9 we limit each individual to a maximum transaction value of 10 000 HKD which is far less than the legally allowed 120 000 HKD.
We have been in dialogue with Senior Investigator Tommy Kwok from the Hong Kong Customs and Excise Department since November 2015, which regulates the space in which we operate. Recently we received confirmation that once we are starting to charge our users a fee, we should acquire a license. Currently, our service is free of charge, and we will make sure that we implement any charging model that we receive the relevant licensing. To ensure that only people from Hong Kong, where it is legal, to use our service we verify them through their university email (since currently the service is only available to Hong Kong universities).
2. Plain Exchange is safe
Safety is of utmost importance on our platform to ensure safety of our users we have implemented the following procedures:
a) Only allow university students to use the platform. In case something happens we can easily through the university database find out which parties were involved, as well as who their supervising professor is. If required by law, their address, HKID, passport information amongst others can be retrieved.
b) We recommend safe spots. Especially for new students this is important. On each of the campuses where we operate (HKU & HKUST) we have identified 3 safe spots. These are spots where there is a presence of CCTV, a security guard post in proximity, as well as a large number of people walking past that place.
c) Currency verification guide. For each of the currencies, which we allow people to trade on the platform, we link them to the page of that country's relevant monetary authority, which provides extensive guides on how to verify that the tender is legal. This information will be sent to them once they connect to an offer.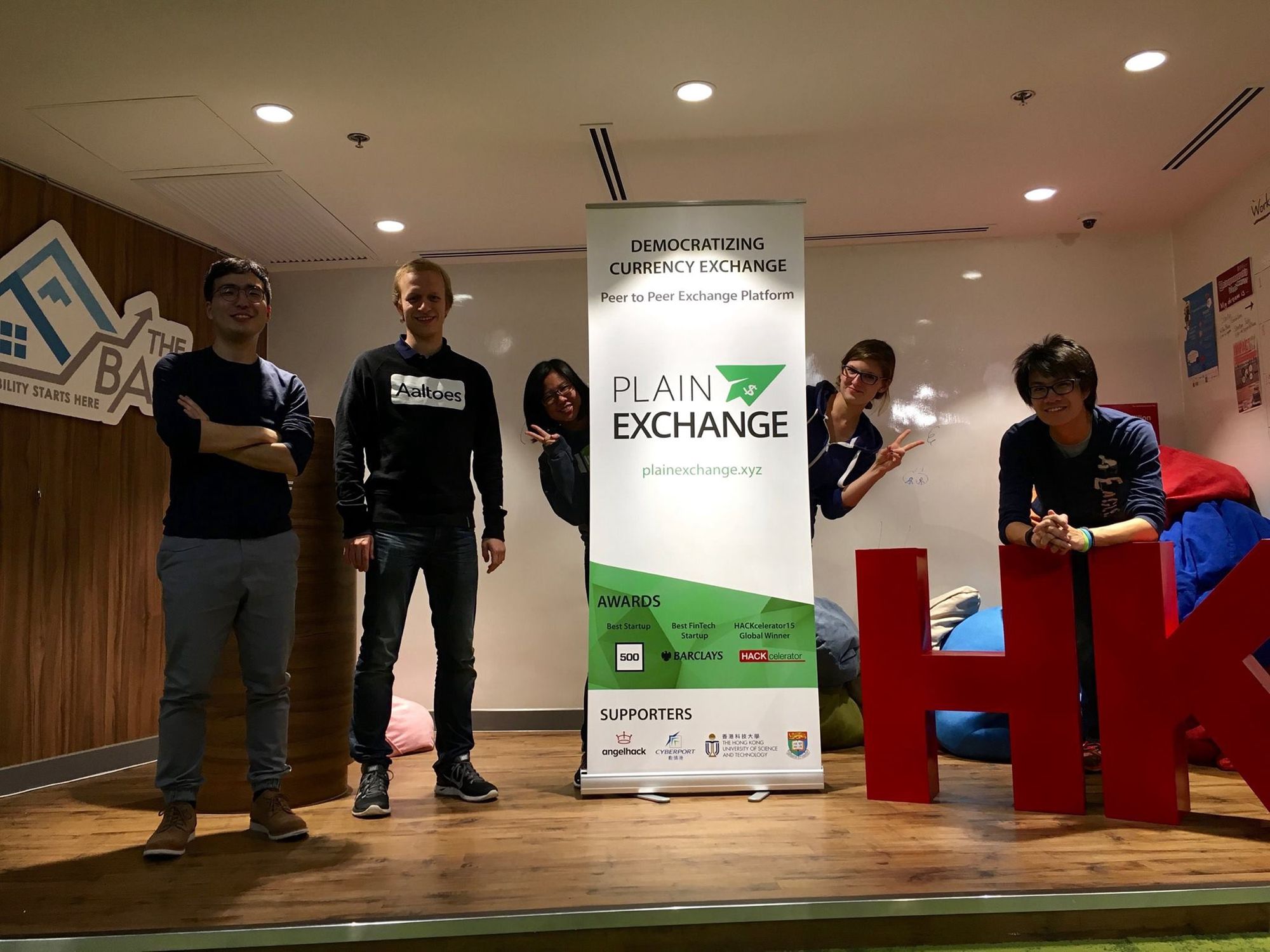 ---
Update: We unfortunately could not overcome this obstacle, so the product and the startup team shut down.